Mathematics and Statistics Group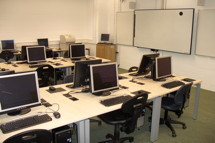 Mathematics Labs
Without the help of calculators and computers the teaching of Mathematics, particularly its applications, would be severely restricted. Fortunately almost all students coming to Stirling have calculators and are proficient in their use. The power of these calculators has increased dramatically over the last few years and soon calculators that "do" algebra will be available for less than £100. It is not expected that students have one of the new breed of calculators since what they can do (and very much more) can be done on computers that are available to all students in the two Mathematics Computer Laboratories.
Equipment and Software
The two Mathematics Laboratories situated in the 4X corridor have recently been upgraded, and house PCs with high resolution colour graphics. They run the very latest mathematical and statistical software including:
Mathematica - a powerful mathematics package that is used in almost all of the course units, exploiting to the full its numerical, algebraic, graphical and programming facilities. This package also provides word-processing facilities so that students can write up their projects if they wish.

MacTutor - a HyperText courseware package to provide an interactive environment to enhance students learning.
These packages are used during lecture periods to give on-line demonstrations, and by students during workshop sessions in the laboratories.
The most versatile of these packages is Mathematica which is used in many of the Mathematics course units. Mathematica is an example of new-generation software, able to carry out algebraic manipulations as well as the standard arithmetic operations. The impact of this technological advance on the traditional mathematics syllabus, where a significant amount of time is spent learning how to do tasks that can now be done by computer, is likely to be substantial.
The use of computers is essential in the teaching of Statistics, enabling large sets of real-world data to be prepared, explored and analysed with ease. This is done both through graphical display - looking at the data in different ways to tease out the essential features - and through calculation of numerical measures that characterise different facets of the data. The main Statistics package installed in the laboratories is extremely powerful and easy to use, being largely menu-driven.
Also of importance is the software package Stella, which is an icon-based kit used for building simulation models. Such models are to be found in many areas of application - Environmental Science, Economics, Physics and Operational Research to name just a few - and are used to explore the behaviour over time of complex systems for which, typically, exact solutions can not be found.
The software library also includes a program called MacTutor and a range of in-house developed courseware materials that define what is called an "active learning environment" - a set of mathematical resources that can be accessed swiftly through an intuitive and interactive "front-end" as and when required.
Note: Each laboratory has a laser printer, providing printing facilities to all the machines.